Recently, Guangzhou Bochuang Machinery Co., Ltd. can be described as a success story. The privately-owned machinery manufacturer launched the first all-electric injection molding machine at China International Plastics and Rubber Exhibition in Shanghai this week. It also achieved substantial growth in sales and announced new sales targets and new developments. Export market.

The BE Series all-electric machines with 15, 30 and 50 tons of clamping force are available for small precision applications. According to Zhu Kangjian, president of the company, the aircraft was developed in cooperation with a Japanese company.

"China is already a big supplier of hydraulic presses all over the world, but on all-electric machines, we are still in its infancy." He said that parts of the BE machines are purchased in China and therefore cost-effective, which is in the Chinese market. The key to victory.

Zhu Kangjian said that Botron's small-tonnage all-electric machines are filling the niche markets that other large Chinese press makers have not yet stepped into, and can help electronics manufacturers improve efficiency. According to his expectations, sales of the all-electric press will reach three digits before the end of the year.

Zhu Kangjian told reporters that the financial crisis did not adversely affect the company's 2009 revenue. Bochuang reported sales of 400 million yuan ($58.5 million) in 2009, much higher than the 330 million yuan (48.3 million US dollars) in 2008. The company set a sales target of more than 550 million yuan (80.5 million US dollars) this year.
The growth rate of the domestic market, which accounts for 3/4 of its business, is generally faster than that of exports. At the same time, Borch is actively exploring new export markets. Earlier this year, the company and Iran's premier injection molding machine manufacturer Poolad

Co. has established a strategic partnership. Zhu Kangjian said that Bosco's Guangzhou plant will produce co-branded machines for Poolad.

Such new markets will help to offset Borch's loss of business in India because the Indian government currently imposes high anti-dumping duties on the presses imported from China. "Although the tax rate levied on our company [76%] is the lowest of the 10 import companies that accepted anti-dumping investigations, it still has a great impact."

Borchow has 1,937,500 square feet of production area, employs more than 600 people, and has an annual capacity of 7,000 presses.

Guangzhou Bochuang Machinery Co., Ltd. was founded by Zhu Kangjian 7 years ago. Before that, he served as general manager of Zhenxiong Group, a renowned Hong Kong press maker in the industry.

Now Borchino has attracted venture investment from the United States, but Zhu Kangjian's ultimate goal is to lead Broadcom to publicly list. "It may be within two or three years," he said.
It is a simple Climbing Machine and can be folded when you are rest . It can`t be occupy much space . But it is hot sell in some countries .For example , Korea , Japan , EU , Chinese . Etc .Also the price is cheap , but the Fitness Equipment machine use easily . It also called vertical climber cardio exercise machine . It don`t has display screen watches and suitable for one people to do sports on it . The gross weight is only 22KGS and one small 20`FT container can load 350PCS , It can save your much shipment charge . Because it is smaller and light . Also the price is low .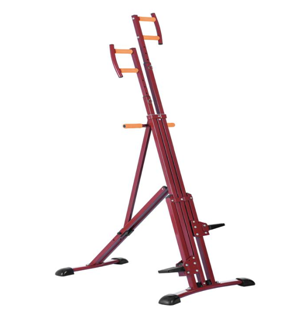 XJ-CM-04

SPECIFICATION

G.W

22KGS

N.W

20KGS

Max Weight

150KGS

Meas

165*30.8*15CM

Max Height

200CM

Size

68*100*200CM

QTY

1PC/CN

Ctn

350PCS/20`FT

730PCS/40`GP

810PCS /40`HQ
Folding Climbing Machine,Vertical Climber Climbing Machine,Vertical Climber Cardio Exercise Machine,Vertical Climber Machine
ZHEJIANG MEIER FITNESS EQUIPMENT CO., LTD , http://www.chinameier.com